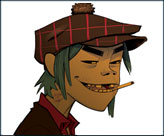 2-D shows off his hickey

One of the best marketing ploys of the last few years, cartoon band the Gorillaz just released a new album, Demon Days, on May 3. Creator Damon Albarn, along with artist Jamie Hewlett (of Tank Girl fame), has made another addictive venture into raggae, electronica, and hip-hop combining the talents of Albarn and artists like De La Soul, MF Doom, Roots Manuva, and Shaun Ryder of the Happy Mondays. While there are hints of techniques Albarn uses with his main project, Blur, this is a very distinctive Gorillaz project. Surely Albarn cannot help but make music representative of the time and place he is in, and comparisons can be drawn between this album and the the mellow beats of Think Tank. However, the screeching guitars characteristic of Blur are nowhere to be found in Demon Days. In this side project, Albarn abandons rock structures for drums, bass, and synthesizers, with the occasional violin thrown in for good measure.
This album has been called dark, which isn't really the case. The "Intro" seems to set a grim tone with its use of elements of "Dark Earth" from Dawn of the Dead, and the mood might be sustained if the sound of the songs were more like the titles, including "Last Living Souls," "Kids With Guns," "Dirty Harry," "Every Planet We Reach is Dead," etc. But the music is relaxing if not cheery, and the use of choirs, vocal harmonies, and beats that border on danceable make the album anything but ominous. In fact, it is hard to listen to "Feel Good, Inc." without dancing. This is as close to pop as Albarn gets though. He continues to be groundbreaking and experimental in his multiple projects, an amazing feat, especially since Blur, Gorillaz, and Deltron 3030 (with Del tha Funky Homosapien) are all so different.
Click here to buy Demon Days by the Gorillaz.
Click here to buy Think Tank (Blur)
Click here to buy Deltron 3030's self-titled album.