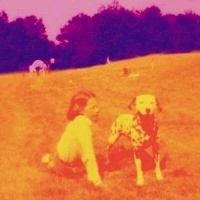 Released Apr. 26, 2005 on Vagrant Records

If you're waiting for the Eels' shiny pop album, Blinking Lights and Other Revelations is not it. On the contrary, the follow-up to 2003's Shootenanny is an introspective double album about "God and all the questions related to the subject of God," according to creator, Mark Oliver Everett. "It's also about hanging on to my remaining shreds of sanity and the blue sky that comes the day after a terrible storm," he adds, "and it's a love letter to life itself, in all its beautiful, horrible glory."
Everett, otherwise known as E, does on this album what he does best, walking the middle ground between comedy and morbidity. His voice sounds like a man on the brink of either laughter or tears, and the tone of the music mirrors his range of emotions, moving from frenzied keyboards Ray Manzarek of the Doors might be proud of in Going Fetal, to the sweet and gloomy violins of "Blinking Lights (For Me)." The song titles, ranging from "Suicide Life" and "Son of a Bitch" to "Hey Man (Now You're Really Living)" and "Sweet L'il Thing," reflect this paradox as well. E has had a productive two years, and he covers the entire emotional spectrum in this impressive collection of 33 songs. To listen to four full-length songs from the album, click here.
On Jun. 28, E and the Eels will be gracing the stage at the 9:30 Club as part of their world tour (Click here for a full list of tour dates), but do not expect the show to be low-key. Though the band may not jump around the stage, much less move, they know how to please a crowd. On their Soul Jacker tour, the band opened their show in Detroit with Missy Elliot's "Get Your Freak On," made all the more entertaining by the incorporation of cheesy keyboards and Everett's monotone voice declaring "Get your freak on" without a hint of irony. Click here to buy tickets for the 9:30 Club show, and be sure to buy the new album here before you see them live.