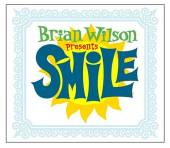 Released Sept. 28, 2004 on Nonesuch
Records

Brian Wilson and lyricist Van Dyke Parks' adandoned 1967 follow-up to Pet Sounds is finally here, albeit almost 40 years later. These songs, taken from one of the most productive yet volatile periods in Wilson's life, finally fill the void left between the fantastically trippy Pet Sounds and the disappointing replacement release, Smiley Smile.
In 1966, when the 24-year-old Wilson began work on the album, it was one of the most anticipated releases of the time, meant to rival then current Beatles' album, Revolver. However, a combination of drug use, family dysfunction, and pressure caused by the success of Pet Sounds and the million-selling number one single, "Good Vibrations," left Wilson emotionally unstable. He spent much of the 1970s recovering, and as a result, the original tapes to Smile gathered dust on a shelf.
In the fall of 2003, Wilson and Van Dyke reunited to finish Smile. After a live presentation in London, Wilson and his band painstakingly recreated his 1966 compositions to capture their original glory. Engineer Mark Linett explains, "For this album, Brian went back to his original modular approach, recording most of the pieces separately so that each section of a song would have its own unique sound and texture. Just as he did in '66-67, the master tracks were recorded with everyone, including the strings and horns, playing live, in a relatively small studio--
in this case, Studio One at Sunset Sound in Hollywood."
The re-recordings not only capture one of Wilson's greatest creations; they remain ground-breaking to this day. The vocal harmonies laid over complicated compositions of piano, guitar, trumpets, and strings unique and refreshing. Wilson, well into his 60s, still sings beautifully. In fact, the recordings might be a glimpse back in time of Wilson at 24, jamming with the Beach Boys.
Smile combines the best of Wilson's jazz, pop, and classical influences. "Heroes and Villains" is an epic composition of happy harmony, futuristic sounds, and humming. This song gives way to "Roll Plymouth Rock," a drum-laden soft melody. Each song is delightfully different, but blends seamlessly into the next. Wilson reinvents pop elements, such as an infusion of "You are My Sunshine" into a jazz composition. Van Dyke's lyrics add to this eclecticism by reinventing common phrases, demonstrated by the lyrics of "In Blue Hawaii": "Is it hot as hell in here, or is it me? It really is a mystery. If I die before I wake, I pray the Lord my soul to take my misery--I could really use a drop to drink." The album ends on the perfect note with "Good Vibrations," bridging Wilson's past and future. Click here to buy Smile.


Related Articles:
Brian Wilson Announces Tour Dates